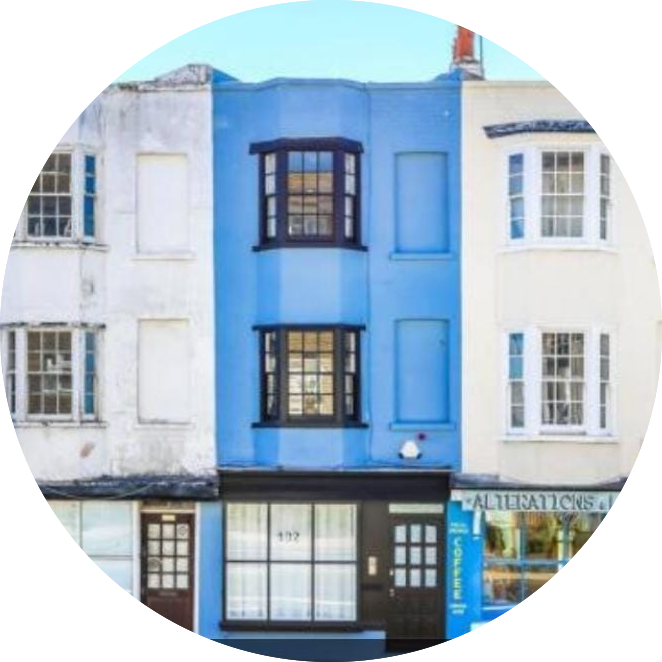 Brighton Rock House
There are several main areas in Brighton to explore.
---
The Lanes
These are famous as they are tiny pedestrian streets between North street and Prince Albert Street. This was part of the original settlement of Brighton (then called Brighthelmstone) and completed in 1792. This was because people wanted to come to the area after the benefits of sea water had been publicised by Dr Richard Russell of Lewes. Have a mooch around here it's awesome!
---
The North Laines
These are full of really cool shops and restaurants. Even the roads heading there are great too so head from the Lanes down Bond Street or New Road, onto Gardener Street, then Kensington Gardens. Kensington Gardens is a small pedestrian street with more cool places like the amazing 'Snoopers Paradise' which is a flea market. Then head to Tidy Street, turn right onto Trafalgar Street and back down Sydney Street. Now you've had a good flavour of the North Laines!
It's called this as there were several farming plots or 'laines', one of which was the North Laines. They were divided up into tracks and as Brighton started to develop the tracks were turned into streets. They put a rail hub at the top of the North Laines in 1840 and this became Brighton Train Station.
Like the area opposite Brighton Rock House these streets were small and eventually became slums. They were very nearly demolished too! In fact the council had planned to replace the whole area with high rise blocks, a flyover and a large car park. But we have one man to thank for saving lot! Ken Fines. He worked at the council and felt the area had charm and pressured the council to keep it. The council were against his plan and so were local businesses who wanted to redevelop the area. Thankfully they finally came around to Ken's view and it became a conservation area in 1977. You will see a plaque in North Road commemorating Ken!
---
The Beach
Originally Brighton became popular because of health and wellbeing. Seawater cures were popular in the 1750's and Brighton being near London made it a good alternative to spa towns such as Bath.  Few people swam for the sheer fun of it, they went for the healing powers of the water!
Initially just the rich came to Brighton but once the railway arrived the area was opened up to all and whole families could come here. There were two piers the Chain Pier (now gone) and the West Pier (now a metal shell). Lastly Palace Pier in 1891 which is of course still going strong.
Beaches were single sex until 1901 when both sexes could sunbathe and swim together! This of course made it easier for families to come to the beach together.
In the late 90s when I was on the local radio station here the seafront area featured some old pubs like Fortune of War and The Honey Club, but it wasn't the thriving row of bars and clubs it is now. The Honey Club is now Shooshh (can recommend) and if you keep going along the coast towards Hove you'll find loads of great places to eat and drink.
If you keep left of the Pier on our side of town, you'll see this area is getting better and better too. Now the Brighton Zip (awesome fun) and bars like Bison Bar, the crazy golf, and the Volleyball courts.
---
The Royal Pavilion
In the mid 1780s George, Prince of Wales, rented a small lodging house in Brighton. He'd been advised to try out the healing powers of the sea. He loved the area so much he had an architect design a villa called Marine Pavilion. He decorated with Chinese export furniture and wallpapers. In 1815 he commissioned John Nash to transform and extend it to the huge Palace we see today. As you can see it's built in an Indian style very popular with British architects in India at the time.
After George died it went to his younger brother William IV, but he died in 1837 and it was given to his niece Queen Victoria. She went down there and quite rightly said, there's no sea views! (Go and see for yourself on the tour, she is right!) and so she sold it to the town for £50K and had had Osbourne House built on the Isle of Wight instead where she had loads of views!
---
The Pier
The last remaining Pier is The Palace Pier. And at the foot of the old West Pier is the Brighton i360. Amazing views and more fun that you might think. It's got a bar in it too!
---
The Marina
Nice for a change an if you head to Café Rouge and Nando's etc you'll sit overlooking the boats. Make sure you book a restaurant there and sit outside if you can.
On the way there you'll see a big area called Black Rock that was once an outdoor pool. They are redeveloping this area now after years of waste ground. Keep going passed the Marina and you'll get to Rottingdean which is also nice.
---
Above all, have fun!
Leona and Sacha x
---
Brought to you by
leonagrahamdj
of Absolute Radio and
mrsgrahamshome